American-Vietnamese War Memorial Alliance

A Commemorative Partner of the US 50 Year Vietnam War Commemoration

---
OUR PURPOSE:
To honor American, South Vietnamese, and Allied soldiers of the Vietnam War through memorials, displays, events and educational activities.
MỤC ĐÍCH CỦA CHÚNG TÔI
Vinh danh những người lính Hoa Kỳ, Việt Nam Cộng Hòa và đồng minh đã tham chiến tại Việt Nam qua đài tưởng niệm, những chương trình và hoạt động giáo dục.
________________________________________________________________
The Vietnam War Memorial of Auburn Washington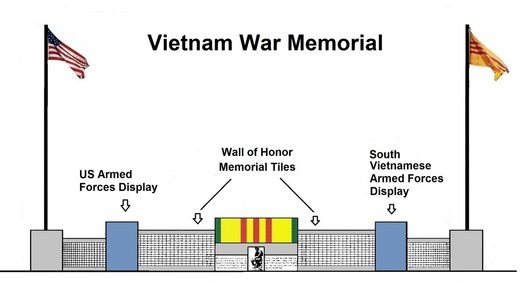 The design of the future memorial is pictured at right. The circular base is 50 feet in diameter. Along the back circumference is a 50 foot Wall of Honor with inscriptions and memorial tiles honoring individual Vietnam soldiers. The memorial will permanently display the US and former Republic of Vietnam flags (as known as the Vietnamese Freedom and Heritage flag). The Auburn City Council approved construction of the memorial in the city's Les Gove Park. The Alliance wishes to thank Auburn Mayor Nancy Backus, former Mayor Peter Lewis, City Council members and staff, and all those who have supported development and approval of the memorial. A groundbreaking ceremony is scheduled for noon, March 11th in Auburn's Les Gove Park. Construction is scheduled to begin March 12, 2018.

---
Next Steps
Veterans, their families and supporters are invited to attend the memorial groundbreaking ceremony scheduled for 12:00 noon, Sunday, March 11, 2018 in Auburn's Les Gove Park at 910 9th St. SE in Auburn, Washington.
Fundraising is on-going. Donations may be made on-line through the "Donations" page or sent to:
American-Vietnamese War Memorial Alliance
3405 172nd St. NE #5 Box 367
Arlington, WA 98223
News about future Alliance meetings and plans will be posted to the "Events" webpage. Questions and comments can be directed via e-mail to:
contact@honorvietnamvets.org
, or by phone to Co-President Lan Phan Jones at: (360) 357-3764.
Thank you for your support.
* Click here to view Auburn's Vietnamese Freedom and Heritage Flag Proclamation.